deLIGHTHOUSE Pâtisserie & Shop - Crowdfunding
Going live on Crowdaboutnow feeling like joining our advanture check out the link! deLIGHTHOUSE
NICE TO MEET YOU!
I'm Nicolas Adam, I'm a French chef specialised in pasties. I worked in high end and star restaurants for over 10 years. I'm an entrepreneur by heart and I run my own businesses for more than 8 years. I'm expressing my feelings via the medium of food & drinks by crafting avant-garde taste experiences. Playing with the traditional codes of this industry and challenging the current status quo makes me reinvent myself on a daily base. It's my mission to raise awareness on the current disrupted consumption system by working with local, organic and sustainable products. My goal is to collaborate with socially responsible partners who ideally consider and act with a regenerative thought leader. I'm truly looking for investors who support this mission!
WHAT DO WE DO?
In 2016 I founded Leave Your Sword, a rebellious kombucha brewery situated in Amsterdam Noord. Under this flag, I challenge the industry based on high quality control, circular fabrication fashion and the measurement and communication of the alcohol percentage (ABV) combined with producing a 100% tea based kombucha. Leave Your Sword is a laboratory where I get deeper into enriching flavours, ultimate pairing and exploring new production methods. This research resulted in new cool crafted food & drink concepts, that I would love to share with the crowd.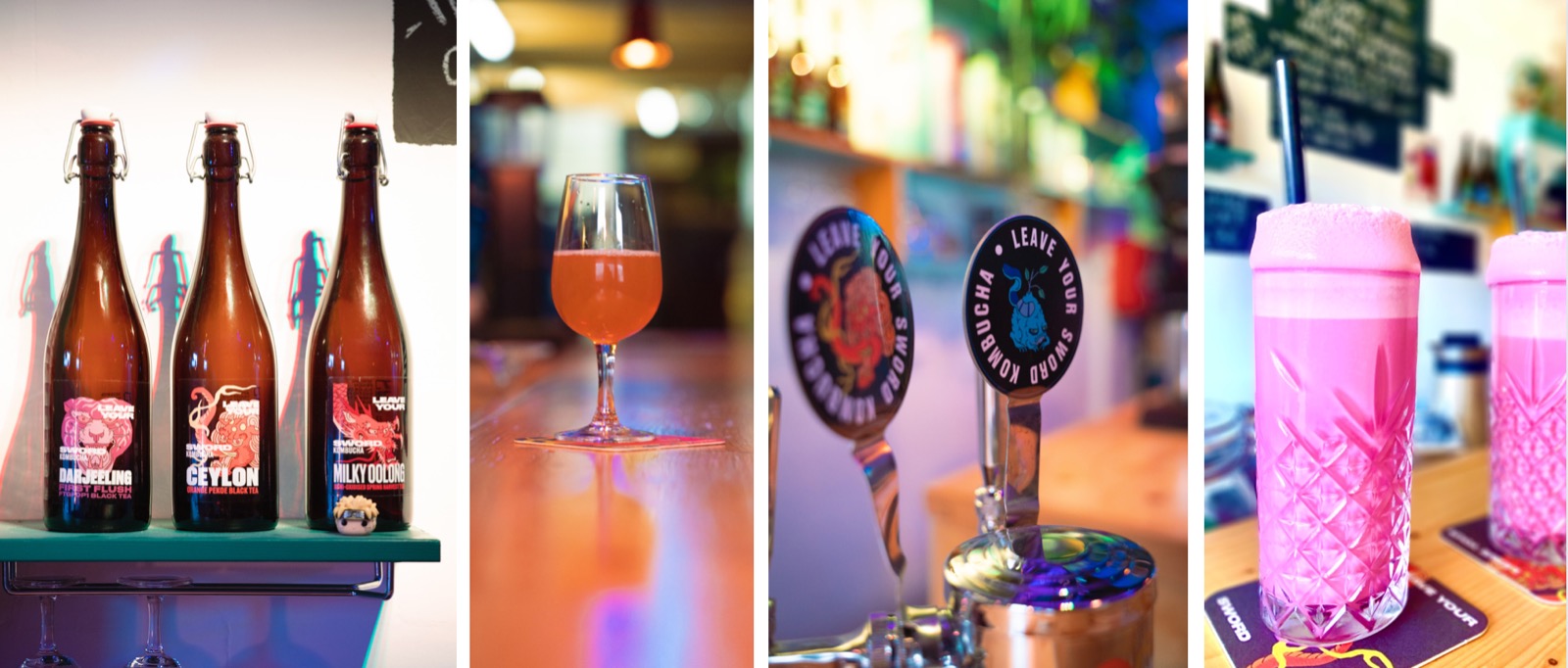 (Photo Kees van Duinhoven - Food Inspiration Magazine)
WHAT DOES LEAVE YOUR SWORD OFFER?
LYS Crafted products
● Kombucha: Our super tasty kombucha is a fermented organic tea, it is unpasteurized, unfiltered & naturally carbonated with maximum 2,5% ABV. We offer the kombucha freshly brewed as well as bottle aged to mature the flavours. We offer 3 lines by the bottle of 75cl and on draft at the taproom:
○ Singles estates (tea grown in one garden): Milky Oolong, Darjeeling and Ceylon
○ Essentials (iconic flavoured tea blends): Green Jasmine, Earl Grey and Lapsang Souchong
○ Seasonal (Green Sencha combined with seasonal harvest): Elderflower & Sencha and Verbena & Sencha
● Pastries: I love to work with surprising taste combinations, textures and designs, which results in mouth-watering sweet & punchy artworks. We are known for our take on Classics, a pastry collection based on complementary and modern flavours. Especially our financiers, tartelettes and brioche with sake kasu are massively popular. We are honoured with all the special requests from our horeca partners to create tasty custom made pastries and pairings.
● Crafted food: Due to my 'no waste' policy, I started to extend my product line with homemade raw vegan kimchi, sirops, canned products like jams, mustard caviar, caramel, tsukudani and more.
● Chocolates: Chocolatier Raaf, Camiel Jiskoot runs his beautiful handcrafted chocolate line at Leave Your Sword.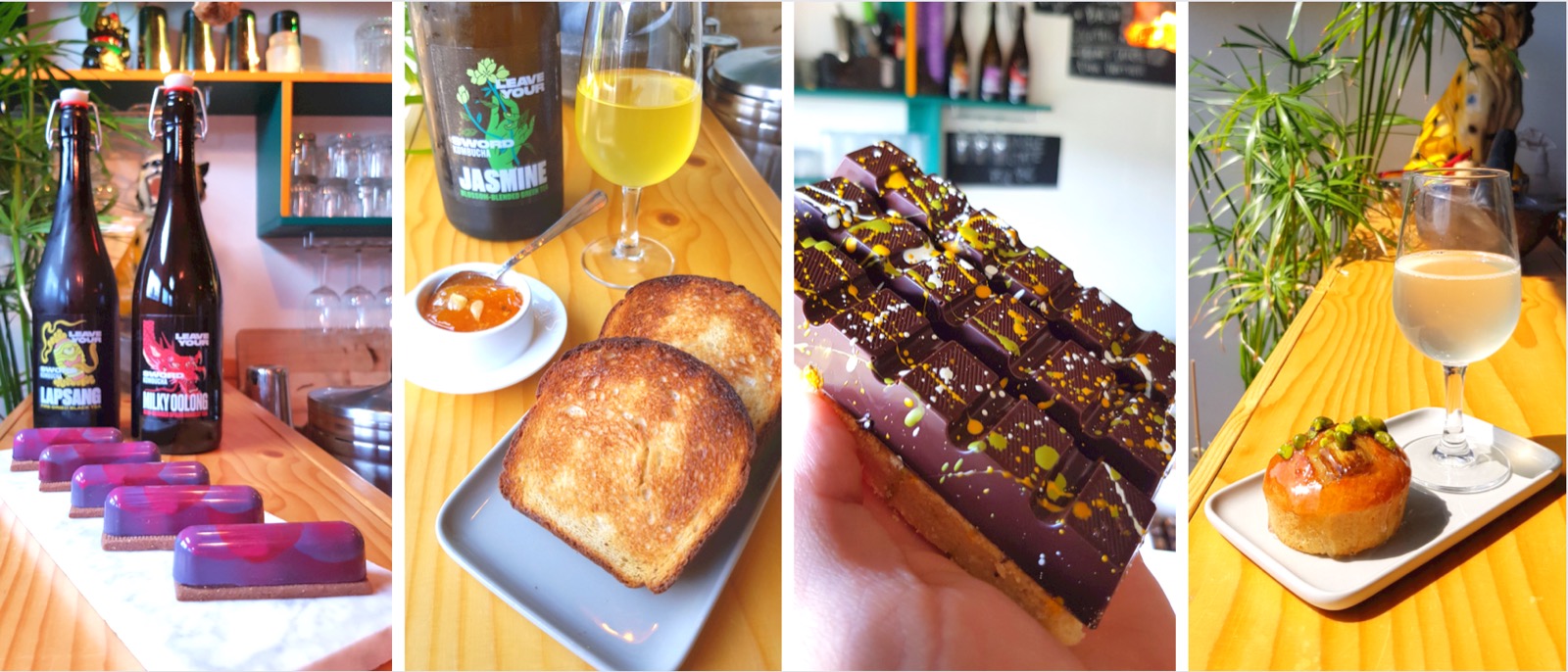 LYS Events
● Sweet Tooth Club: Since the summer of 2019 I organise Kombucha/Cocktails & Pastry/Savoury Pairing events at the brewery. This sparked the idea to bring people together in a new location.
● External events: With my 2 mobile cocktail bars I facilitate and host custom made Kombucha/Cocktail & Food pairing events. I organise tastings on partners' locations, active participation in wine fairs and radio beer podcasts from Oedipus.
● Artistic collaboration: Together with ambient techno DJ Max Abysmal I organise 'Cricket Diner & Orchestra', where we tease all our senses.
WITH WHO ARE WE WORKING WITH?
● Private customers: we warmly welcome private customers, conscious food & drink lovers mainly from Amsterdam, who find their way to the taproom and to the website.
● Business Customers: hip & happening bars, restaurants, shops & museum in Amsterdam like Hotel de Goudfazant, Café Remouillage, Bacalar, Undercover, Duke of Tokyo, Entrepot, Volkshotel, Black Gold, & Sterk and Benelux Wines, NXT Museum and so on.
● External Event Partners: De Ceuvel, Skatecafé, Butcher's Tears, Garage Noord, Het HEM, BIMHUIS, Hortus Botanicus during Museumnacht, Mesjogge, Transvaal Bachenaal and 010/020 Diners.
CROWDFUNDING deLIGHTHOUSE Pâtisserie & Shop
The dream is coming true. Now all we need is your kind support. After months of looking for the best place, we finally found it and it is just around the corner of the brewery. 120m2 to relocate our pastry production, combined with a shop in the front. deLIGHTHOUSE is the place to sample and find our unique and high end concepts, Leave Your Sword kombucha, pastries and cool food concepts, together with Chocolatier Raaf's assortment and a stunning selection of products by other local partners & friends.
We feel that it's time to expand and allow Leave Your Sword kombucha and kimchi fermentary its full space to grow, showcasing our unique brand and it's high end crafted products. The timing is perfect: Leave Your Sword is excited to launch and set the reference standard for luxurious tasting kombucha and pastries in a special setting. We want to remain true to our original mission and purpose: to be sustainable, bringing the highest level of passion and craft to our customers who appreciate quality and support local initiatives. Besides that, our goal is to become your favourite neighbourhood hangout by giving back a new location to the community and to offer a space to connect, taste and enjoy.
deLIGHTHOUSE Pâtisserie will be the production space destined for crafting our food concepts like pastries, seasonal pies, chocolates, jams, brioche and many other ideas in the pipeline. As the production capacity grows, we plan to switch and source ingredients, such as butter, milk, eggs and seasonal fruits from locally sourced suppliers like Van de Koe and Zorgboerderij Ons Verlangen. The newly available production space will allow us to increase and vary production methods. This will, in turn, allow us to be more responsive toward our B2B customers product selection, as well as switching towards a more sustainable delivery method such as local bike delivery company.
deLIGHTHOUSE Shop
deLIGHTHOUSE is a place where you'll get energised daily and connect with other friendly creatures. We want to create a neighbourhood hangout where you get served by knowledgable expert enthusiasts. We invite everyone who wants to explore all of their senses with original, raw, sophisticated and uncompromising products. From morning coffee with a pastry, to kimchi brioche tosti with a delightful kombucha in the afternoon, there is always a good reason to drop by deLIGHTHOUSE. At the weekend, stop by for a brilliant brunch with sparkling sake or the ultimate food pairing event of Leave Your Sword in collaboration with Chocolatier Raaf: 'Sweet Tooth Club' will revive!
At deLIGHTHOUSE, all the kombucha will be available on tap, featuring our essential kombuchas, as well as new seasonal kombucha from the brewery. We will invite local partners to collaborate and enrich our offerings, from sustainable Kaap Coffee beans, organic tea to local beer breweries. We will host tasting and pairing sessions, for kombucha, natural wine, sake and beers from our friends like Otemba Sake, Oedipus and Butcher's Tears. Our favourite drinks selection will be found in the shop.
LOOK & FEEL
deLIGHTHOUSE stimulates all your senses with an uplifting, enlightened and colourful interior design. We find inspiration in photography, refined prints and tattoo art, the playfulness of Manga and comic strips, and the rawness of the NDSM graffiti. With natural products, we create a refreshing balance, an oak wood bar with lots of (hanging) plants and at the entrance you find a playful light installation.
To make this all happen we need your help! Are you in?
JOIN OUR PROJECT
We feel the urge to live and share our mission. Crowdfunding is the perfect way to enlarge our vigour to change the fucked up system. We believe we can anchor the regenerative thought leader into the community. I'm looking for brave partners who can help me to innovate, minimise our footprint and stimulate partnerships with likeminded local entrepreneurs. It would be a great honor if you would support our project!
BUILDING PHASE
We are more ready than ever! On 15th of January 2022 we received the key of the new location, Klaprozenweg 46, Amsterdam Noord. With a thorough backplanning we aim to open deLIGHTHOUSE in May 2022. The place has been totally stripped. We are aiming at a mixture of refurbished kitchen materials, we only buy new to make sure we can keep up production. Since we have the space I already invested € 16.000 in cleaning up the space, setting up crowdfunding videos, buying and picking up second hand tools in Paris, as well as the financial cost to get the shop.
Our local construction partners and suppliers are all lined up, we can't wait to start the build! This is the moment to get in and make our dream come true.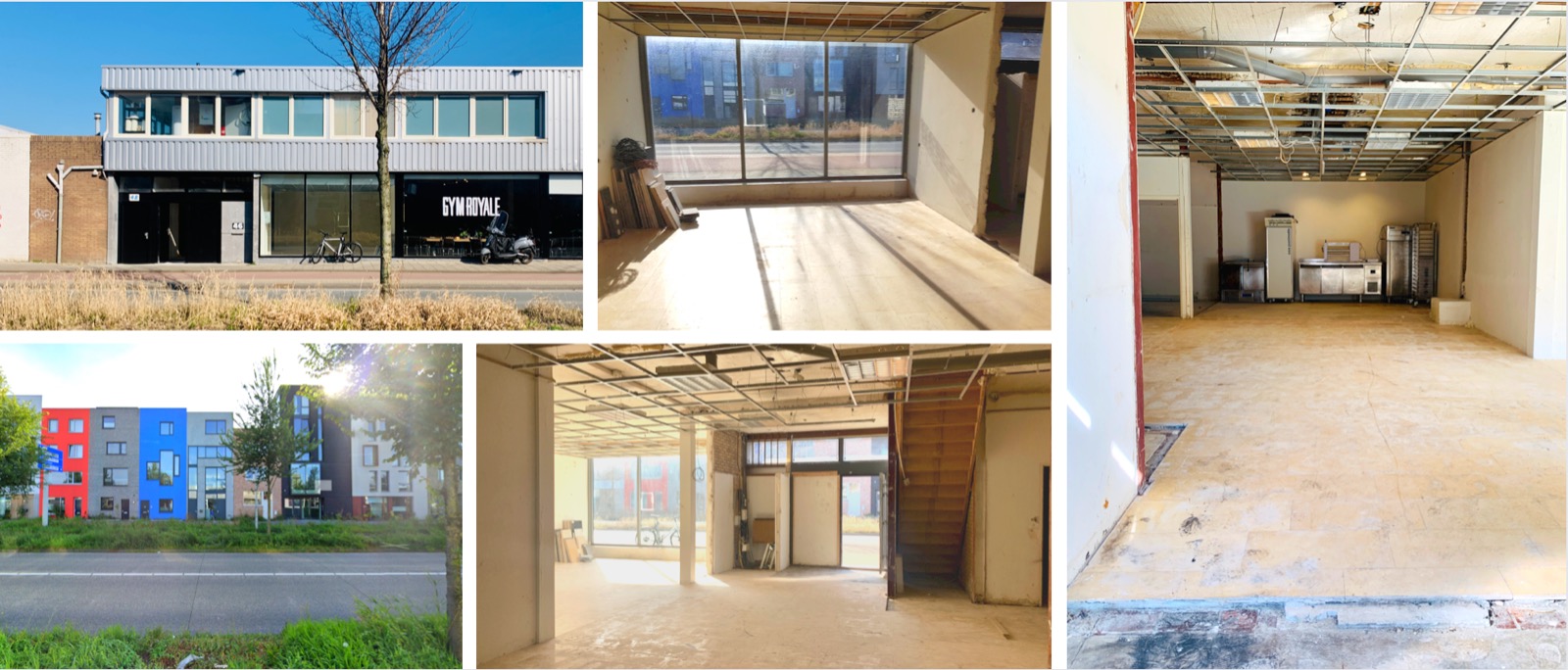 INVESTMENT
To be open by May, we decided to work in 2 phases splitting the need by 2. To be able to start rebuilding the place, first we need to order our selection of tools, this will take a couple of weeks. In the meanwhile we start rebuilding with our partners on the production section and shop. Hereby you find the investment and planning needed divided in 2 phases. We have a detailed investment plan with comprehensive costs and projections available. Please feel free to contact us for more information.
€ 89.000 Production section - walking fridges & freezer, dish washing section, dough maker
€ 52.000 Shop - Coffee machine, cooling, pastry & chocolate vitrine, bar, artist decoration
€ 13.000 Chocolate section for Chocolatier Raaf
€ 6.000 Electricity - Meterkast
€ 9.500 Communication & marketing
€ 169.500 Super total
Phase 1 : Starting investment €84.750
Build and install pastry production walls
Ordering machinery
Fixing floor and installing gutter sewage production
Reparation shop, electricity, plumbing, walls
Refurbishing ceiling, installation extractor hood
Creation electricity panel and electricity installation
Installing walk-in fridge, walk-in freezer & AC
Refurbishing shop, entrance walls, entrance door
Ordering pastry production cooling, cooling vitrine, dough mixer
Plumbing pastry production
Dish washing setup
Phase 2 : Final investment €84.750
Building counter, shelves, table window, bar back, plumbing bar
Artist decoration
Light & Sound installation
Coffee machine, grinder, tableware, fridge shop, kombucha draft system
Communication & marketing
Building website
RETURN | GIFT & LOAN
It's super awesome that you are (thinking about ) supporting us! We want to offer you the best and we have worked out a GIFT selection starting from €5,- and a 4% LOAN plan starting from € 500,-
WE ARE LOOKING AT A BRIGHT FUTURE
deLIGHTHOUSE. The ultimate happiness is to bring the best ingredients together. For us, beautiful food, great drinks and sweet company have always been a unifying elements. We truly believe that deLIGHTHOUSE will give you a new experience and avant-garde taste sensation. New flavours will encourage you to connect or just to sit down and take a breath in a safe atmosphere. We are looking forward to welcoming you, entertain you and to serve you peace, love and happiness. Together we can make life easier and more tasteful!
Do you want to know more and stay up to date with our future events, follow us on social media! Interested in investing or would you like to receive a more details business plan, please get in touch with us at nicolas@leaveyoursword.com or info@raafchocolatier.com.
Stay wild!
Photo & video credit: Diego Ospina Melo
Text credit: Annelien de Bruin